Andrew Martin scanned this lantern slide photo, marked "Edward Bros., Bear Creek", along with a Sliammon photo (shown below the "continue reading") and wondered if there is a closer "Bear Creek" to Powell River than the ones north of Comox, near Port Alberni, northeast of Port Renfrew, or north of Sprout Lake. Does anyone recognize which "Bear Creek" logging show this photo of a Baldwin locomotive might have come from?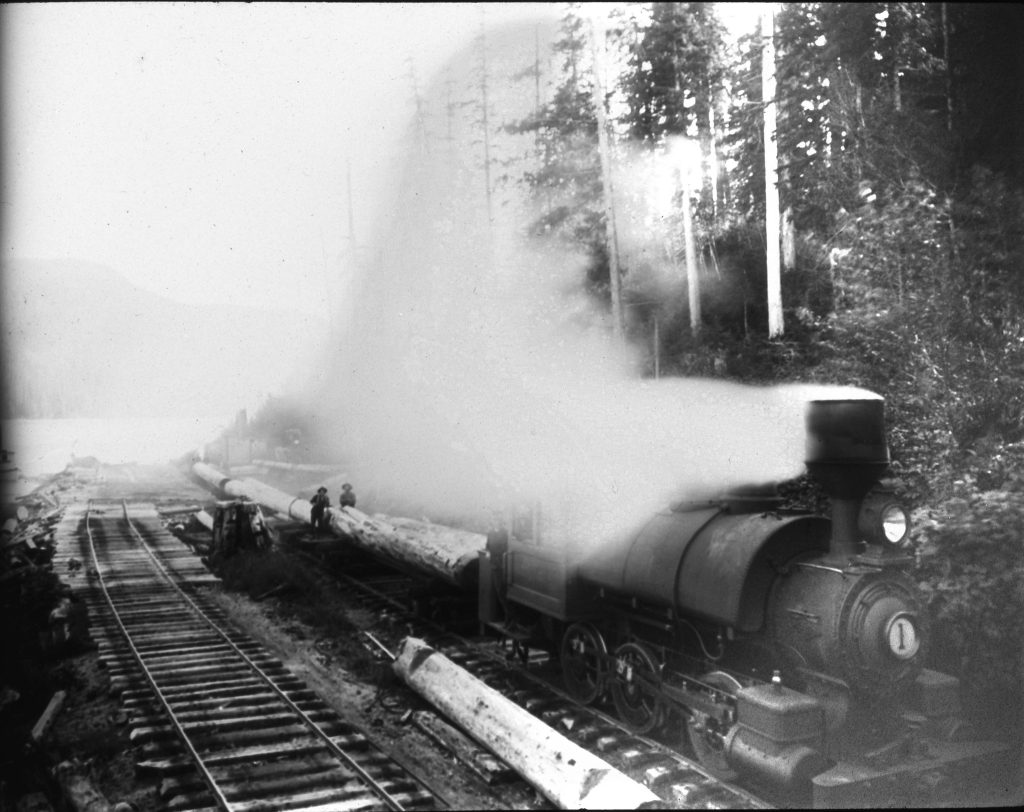 https://www.facebook.com/groups/423298261169886/permalink/2514709755362049
—— continue reading ———
Some other photos recently shared by Andrew Martin from his BC historical lantern slide collection are posted below. The first photo shows logs in the bay in front of Sliammon Village sometime before the 1918 fire, and probably during Edwards Bros'. active photography work in Vancouver which ended in 1911. Note the older buildings made of hand-hewn cedar alongside the later-built sawn lumber, painted buildings which are probably later than the earliest local sawmills which were built in the late 1990s.
Read more in the November 2018 Neh Motl article. https://www.tlaaminnation.com/wp-content/uploads/2018/10/1118-November-Neh-Motl.pdf
From Andrew: "I am attaching a few other logging photos that I got as a lot. Numbers 24 and 26 I strongly suspect were taken along with the ones I put up on Facebook. All Edwards Brothers photos I think. They were active from 1891-1911. The others, 21, 22, 23, I suspect came from somewhere else. They could have been taken anywhere (California, Oregon, Alaska, etc.). They are still interesting photos though. I suspect that at least one of them was taken from a copy print. I included 47 just for fun.
All of them are lantern slides that I scanned. Numbers 25 and 28 should appear in the Vancouver Public Library Historic Photographs database in the near future. Feel free to use any, or all, of the photos in any way you wish. I like it when my photos are seen by others.
Take care Dave, and thanks again. … Andrew"