We welcome part-time crew members for the railroad and those who go on to become fulltime members.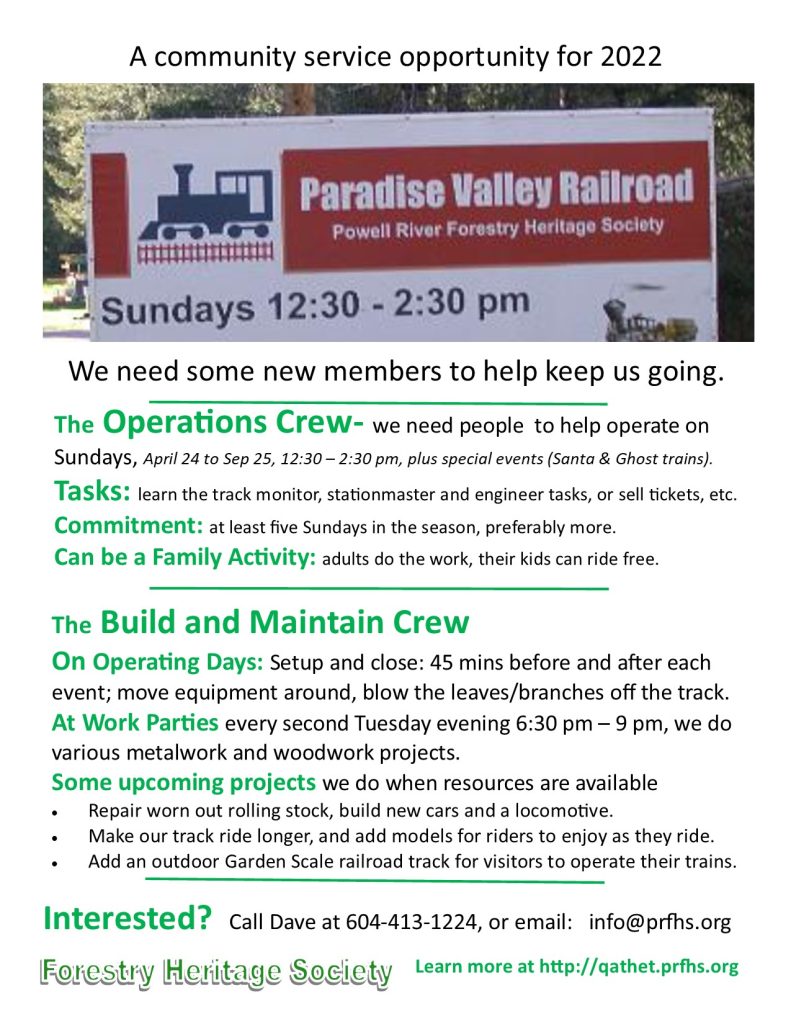 New Members welcome!!
Click for more info
The PRFHS welcomes new members.
We are open to everyone;
membership cost is free;
meetings are held during work parties, with the
Annual General Meeting in April on a Tuesday at 7 pm.
Work parties are called as needed.
Member responsibilities (see below)
We have about 13 active members.
For enquiries prior to joining
Apply for a membership Our form for hand-written applications could be printed from here and mailed or delivered to us.
Even easier, you could apply by email. Clip the following text into your email program and send it to info@prfhs.org
——highlight to ***; copy and clip to emailer and edit as needed———
Yes! enrol me as a prospective member of the PRFHS. I understand:
– Voting privileges and member card will be issued at a meeting following attendance at two meetings or work parties.
– I must apply again if no attendance for a year.
– There are no annual dues.
– I will update my contact information to info@prfhs.org
Include me on emails or phone list for work parties, updates, meeting notices for these areas: (delete as needed)
Name:
Mailing Address: with postal code
Phone:
Email address:
Areas I'll help with (delete as needed)): trail/track labour, carpentry, metal work, meeting planning, photography,
computer/administration, information table staffing/ticket selling, Other__________
***—————————-clip to here for email———————–
Membership will be confirmed by phone and email
Member Responsibilities
Good Standing To remain a member in good standing, members must
Support and comply with the Constitution and Bylaws
Attend two or more work parties or meetings in one year
Follow the procedures and safety standards for work parties