The Powell River Forestry Heritage Society (PRFHS) is a non-profit and charitable society dedicated to the education, preservation and public awareness of the colourful forestry heritage of the qathet Regional District which includes and surrounds Powell River.

The Society maintains the historic Willingdon Beach Trail logging machinery displays that are along the trail, and assists City Parks in maintaining the trail itself, all for the enjoyment of the public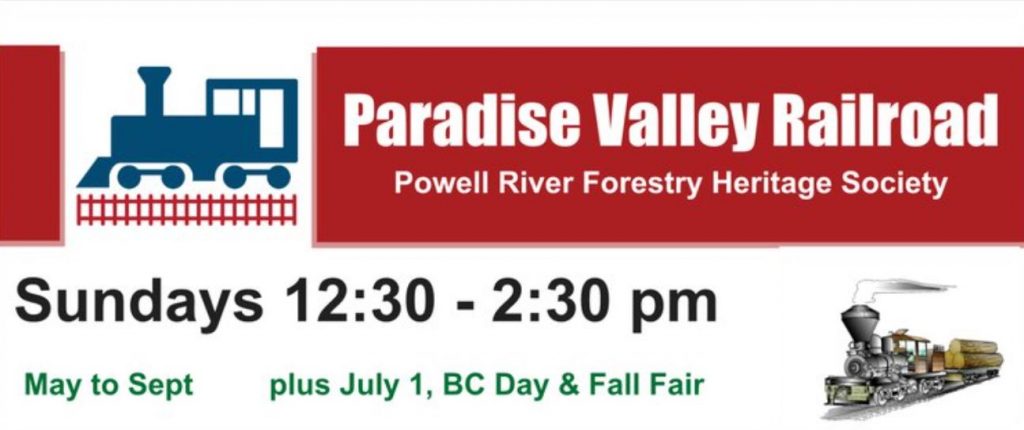 We own and operated the Paradise Valley Railroad located at 4365 McLeod Road beside the Farmers Market.

We support the Forestry Museum at Willingdon Beach, 4815 Marine Ave, Powell River, which is owned and operated by the Powell River Historical Museum and Archives, located across the street.
Governance
Constitution: (Certificate of Incorporation Number S-0020958 5th day of February, 1986)
The name of the Society is "Powell River Forestry Heritage Society"
The purposes of the Society are:
to preserve and advance the heritage of the forestry industry of Powell River and District,
to acquire, restore and maintain forestry equipment for the Willingdon Beach Trail,
to develop and operate a model, ridable railroad at Paradise Exhibition Park
to support the forestry collections of local museums
The bylaws of the Society are here
The officers of the PRFHS elected at the AGM in April 2021 are:
President Dave Florence
Vice President Administration (& Secretary/Treasurer) Geoff Stubbs
Vice President (Railroad) Dan Parsons
Vice President (Trail) Vacant (President acting)
Vice President Special Events Hans Maurer
Directors at large: Dave McLennan (PRHMA rep), Stephen James, Bob Johnson, Phil Kemp, Rob Clark